Racial Equity Implementation Guide for Food Hubs: A Framework for Translating Values Into Organizational Action
By Tamara Jones, Dara Cooper, Simran Noor, Alsie Parks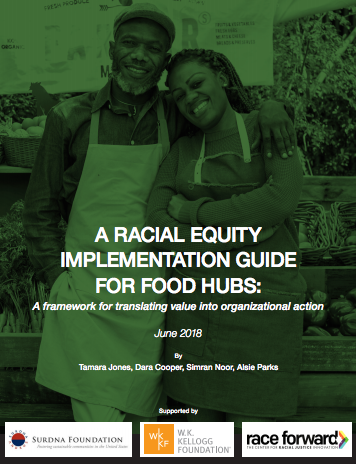 This project began in response to a webinar presentation of the "Findings of the 2015 National Food Hub Survey." Our conversations with funders and food hub operators revealed that while many hubs shared a general commitment to diversity and racial equity, they struggled with how to translate those values into daily operational decisions.
There has been long-standing attention to diversity within the local food movement. Much of that attention has focused on diversity understood as inclusion: increasing the presence of underrepresented groups within organizations.
Inclusion is a necessary first step. However, inclusivity alone does not address ongoing practices and structures that limit the participation of those who have been invited in. This guide offers a framework for food hub organizations to take that crucial next step of constructive self-interrogation to more closely realize the promise of racial equity in the food hub sector.
It is both possible and necessary to correct the injustices of our current food system while building economically viable business models. In business terms, racial equity is not a liability, but rather an asset that can contribute to the financial viability of hubs.
The report presents the basic elements of our Racial Equity Implementation Guide framework, which privileges racial equity at multiple levels of food hub operations. The Racial Equity Implementation Guide for Food Hubs will:
Identify General areas of food hub operations.
Introduce the core principles of a racial equity framework. 
Use the principles as a lens to examine each area of food hub operations.
In so doing, we identify critical questions that can be used by food hubs to begin or deepen their racial equity work.
To learn more, follow #ReframingFoodHubs on social media.
---
Download the Guide
Also available: Reframing Food Hubs: Food Hubs, Racial Equity, and Self-Determination in the South