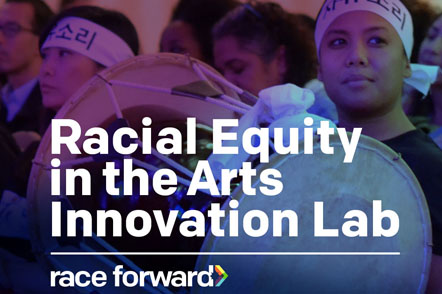 Throughout Race Forward's history, we have explored the significance of the role of arts and culture in movement building and advancing racial equity. With support from the New York City Cultural Agenda Fund in The New York Community Trust, we are pleased to launch our new 
Racial Equity in the Arts Innovation Lab
, which will train 60 New York City arts and cultural organizations to deepen their racial equity work.
Lab participants include the
Tribeca Film Institute
,
Whitney Museum of American Arts
,
Brooklyn Academy of Music
,
Creative Capital
,
Lincoln Center for Performing Arts
,
Hester Street Collaborative
, and many more.
For more information, see the following press releases:
New York City's arts sector is racially exclusive, and does not reflect the racial and cultural realities of New Yorkers of color.   
Racial equity work is siloed and under-resourced in the arts sector.
The arts sector, like many others, is entrenched in a diversity (instead of an equitable outcomes) framework.
Build analyses and skills in racial equity and applying a race lens to: cultural equity, policy making in the arts, and stakeholder/community engagement.
Support New York City arts organizations in developing concrete, actionable, race-explicit interventions (prototypes) that build practice, comfort and a working knowledge of equity.
Curate a collaborative peer learning and action network for racial equity within the NYC arts sector.
Push the arts past diversity frameworks into systemic change (addressing institutional and structural racism).
The Racial Equity in the Arts Innovation Lab will run from June 2017 to June 2018, and will support participating arts leaders in developing and implementing strategic racial equity prototypes, that incorporate training on topics such as racial justice, community and stakeholder engagement, race-explicit policymaking and cultural equity. In 2018, participating organizations will be eligible to be nominated for prototype awards for ongoing racial equity work.
Asian American Arts Alliance
Brooklyn Arts Exchange (BAX)
Brookly Academy of Music, Inc. (BAM)
Brooklyn Children's Museum
Brooklyn Historical Society
Carnegie Hall Corporation
Center for Urban Pedagogy
Cumbe: Center for African and Diaspora Dance, Inc.
Hester Street Collaborative
Ifetayo Cultural Arts Academy
League of Independent Theater
Lincoln Center for the Performing Arts, Inc.
Mass Transit Street Theater
National Dance Institute (NDI)
Roundabout Theatre Company
Soho Repertory Theatre, Inc.
Storyville Center for the Spoken Word (d/b/a The Moth)
The Center for Arts Education
The DreamYard Project, Inc.
The Harlem Art Collective
Theatre of the Oppressed NYC
Whitney Museum of American Art