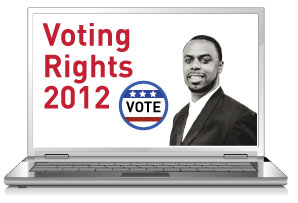 New Joint Project to Track Nationwide Voter ID Laws, Barriers to Registration and Voter Intimidation Tactics
April 18, 2012 (New York, NY) – The Nation magazine and Colorlines.com today announced a new partnership that will offer in-depth coverage of voter suppression efforts nationwide throughout the 2012 election season. "
Voting Rights Watch 2012
" will focus on the racial impact and dimensions of restrictive Voter ID laws, barriers faced by voter registration organizations, and efforts to "police the vote" and other intimidation tactics on Election Day.
The project, led by Nation.com executive editor Richard Kim and Colorlines.com editorial director Kai Wright, will consist of on-the-ground reporting by New Orleans-based investigative journalist and Colorlines.com Voting Rights Fellow Brentin Mock, and will be co-published at TheNation.com and Colorines.com.
Research has shown that at least thirty-four states have introduced and twelve have passed laws that erect barriers to voting at nearly every stage of the electoral process. According to a recent Brennan Center report, nearly five million eligible voters will be impacted by these laws. This patchwork quilt of laws disproportionately impact low-income citizens, college students, women, the elderly and people of color.
"This journalistic partnership will deepen our reporting resources and allow our two institutions, deeply committed to strengthening our democracy, to cast a brighter light on one of the most significant issues in this high-stakes election--the institutional barriers to voting," said Katrina vanden Heuvel, Editor and Publisher of The Nation.
"People fought very hard to ensure a robust democracy with as much participation as possible. Attempts to deny the vote to communities of color undermine that democracy and spill over to affect seniors, immigrants and others," added Rinku Sen, ARC Executive Director and Publisher of Colorlines.com. "That's why Colorlines.com and The Nation are committed to unearthing these obstacles as well as their solutions, combining our audience reach to get this information to a broad base of concerned readers."
For more information, including on-going investigations, or to book interviews, contact
media@colorlines.com
or 
gennady@thenation.com
.
ABOUT COLORLINES.COM
Colorlines.com is a daily news site offering award-winning reporting, analysis, and solutions to today's racial justice issues. Produced by a multiracial team of writers, Colorlines.com is published by the Applied Research Center, and serves as a leading voice on a broad range of issues including politics, pop culture, immigration reform, the economy and jobs.
ABOUT KAI WRIGHT (Twitter: @kai_wright)
Kai Wright is the editorial director at Colorlines.com. His work explores the politics of sex, race and health. He's a reporting fellow of the Investigative Fund of the Nation Institute. His investigative reporting and news analysis appears regularly in The Nation, The Root and The American Prospect, among other publications. Kai is also author of Drifting Toward Love: Black, Brown, Gay and Coming of Age on the Streets of New York, as well as two books of African-American history.
ABOUT BRENTON MOCK (Twitter: @bmockaveli)

Brenton Mock is a New Orleans-based investigative journalist, Voting Rights Fellow for Colorlines.com, and former senior editor for The Loop 21, where he covered electoral politics and reporting on voter ID issues. Mock also works as web editor for the online, citizen-journalist driven blogsite "Bridge the Gulf" and helped launch the New Orleans online investigative news site "The Lens." He previously worked at The American Prospect as a reporter and blogger covering environmental justice issues through a fellowship awarded by the Metcalf Institute for Environmental Reporting. His work has been published in GOOD, The Root, The Daily Beast, Newsweek.com, The Grio, The Atlantic, Next American City, Truthout.org, Alternet, Vibe.com, XXL, The Source, and Religion Dispatches.
###