Recommends Better Collaboration To Advance Racial and Economic Equity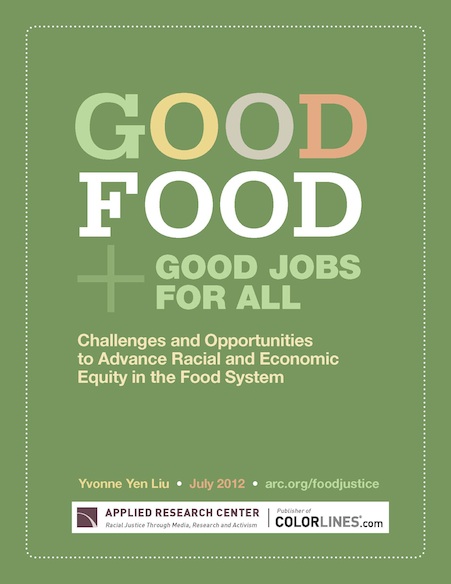 July 10, 2012 (New York, NY) – A new report released by the Applied Research Center finds stronger collaboration is needed between movements for "good food" and "good jobs" in order to advance racial and economic equity in the food system. ARC report "Good Food and Good Jobs For All" is available at arc.org/foodjustice.
Report findings show that low-income people and people of color are most disproportionately, negatively impacted by: obesity, food security, "food deserts," wage and hour violations, and lack of benefits. Yet, the movements for good food and labor rights do not typically work together towards food justice.
"What's at stake here is the future of food justice," said Yvonne Yen Liu, senior researcher at ARC and author of the report. "Healthy food is a human right that all people should have access to, regardless of race, class, or gender. Workers should be treated with dignity and respect.  We show in this report that food justice is a combination of the two: healthy, good food and sustainable, good jobs."
The "good food" movement promotes healthy food, available to all, that is sustainably grown through small-scale, local, seasonal, organic production. The "good jobs" labor rights movement strives to win dignity and respect for workers in the form of family-sustaining wages and benefits, healthy and safe working conditions, and career pathways. The good food movement often leaves out crucial factors such as living wages, immigration status, and enforcement of safe working and living conditions. Similarly, many labor advocates don't address how and why good food and land sovereignty relate to their struggles for workers. Developing collaborative efforts between these movements is key to winning both good food and good jobs.
"These are critical issues that affect everyone – those who produce our food, and all of us who consume it," said ARC President Rinku Sen. "We hope that this report will help fuel robust collaboration between these two fields."
Key Recommendations of "Good Food and Good Jobs For All: Challenges and Opportunities to Advance Racial and Economic Equity in the Food System:"
Pursue intersectional analysis and foster collaborative leadership of those most negatively impacted in the food chain
Create alternatives while challenging current dominant food and economic systems
Build multiracial coalitions that overlap between good food and labor and promote both
Conduct additional research and develop resources such as tools and training
A free webinar will be held on July 12, 2012 at 1pmET/10amPT to present the findings of "Good Food and Good Jobs For All." Presenters include Yvonne Yen Liu, ARC Senior Researcher and report author; Liana Foxvog, Director of Organizing and Communications at International Labor Rights Forum; and Jose Oliva, Program Director at ROC United. ARC Research Director Dom Apollon will moderate. For more information visit arc.org/webinars.
For media inquiries, please contact media@arc.org.
ABOUT ARC – The Applied Research Center (ARC) is a 30-year-old racial justice think tank that uses media, research and activism to promote solutions. ARC's mission is to popularize racial justice and prepare people to achieve it. ARC also serves as the publisher of Colorlines.com, a daily news site offering award-winning reporting, analysis, and solutions to today's racial justice issues. For more information on ARC's work, please visit www.arc.org.
###