Author, activist, and doula Kenrya Rankin (of Colorlines), joins Chevon and Hiba to talk about everything from 'freedom dreaming' to Black love and sex in books and podcasts.  Kenrya talks about her beginnings in Cleveland and her move to New York, what her book How We Fight White Supremacy: A Field Guide To White Resistance means to her one year later, and her own journey as co-host of The Turn On, a podcast about sex and literary erotica.
We preview a new Mass Freedom FRED Talks conversation between Dawn Harrington, Executive Director at Free Hearts, and Jessica Rodriguez, an immigrant rights activist and Director of the Southside Workers Center. They explore why it's important to build solidarity across movements to end mass incarceration and mass detention.
In celebration of Black History Month and Valentine's Day, Hiba and Chevon discuss the late Eva Rutland's contributions to the romance novel genre, and talk about the importance of uplifting Black romance writing and representation. 
Resources (by order of mention) 
Eva Rutland, Browne Popular Culture Library (Thread)
Entwined Destinies Digital Gallery: Elsie B. Washington, Vivian Stephens, and 40 Years of Black Voices in Romance
https://digitalgallery.bgsu.edu/exhibits/show/entwineddestinies/introduction
30 Romance Authors of Color You Should Be Reading, Twin Cities Geek 
http://twincitiesgeek.com/2019/12/30-romance-authors-of-color-you-should...
Mass Freedom FRED Talks with Dawn Harrington and Jessica Rodriguez 
https://www.massfreedom.org/fred_talks/
Kenrya Rankin Website 
The new and updated Colorlines website 
How We Fight White Supremacy: A Field Guide To Resistance 
The Turn On Podcast 
https://www.theturnonpodcast.com/
Executive Producers: Hendel Leiva and Melissa Franqui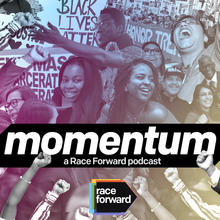 Photo credit (small photo in upper right):
Pax Ahimsa Gethen / Wikicommons
Momentum: A Race Forward Podcast features movement voices, stories, and strategies for racial justice. Co-hosts Chevon and Hiba give their unique takes on race and pop culture, and uplift narratives of hope, struggle, and joy, as we continue to build the momentum needed to advance racial justice in our policies, institutions, and culture. Build on your racial justice lens and get inspired to drive action by learning from organizational leaders and community activists.