Angela Glover Blackwell, founder in residence at Policylink, and host of the new Radical Imagination Podcast, joins Chevon and Hiba to talk about her longtime work as a leading voice in the movement for equity and racial justice.  In this conversation, Angela talks about the "racial moment" we are currently living, and challenges us to think radically in creating narratives that will lead to concrete solutions. Drawing on a lifetime of experience as an activist, Angela provides a reframing of "hopelessness" in this moment in the U.S., and inspires us to use the moment as an opportunity for important social change. 
We introduce our brand new Colorlines series "Who Do We Think We Are" by Race Forward's Senior Fellow, Rosana Cruz that is timely in the wake of the recent "American Dirt" book controversy. Hiba sits with Rosana for a conversation about the creation of the series, and their experience interviewing Latinx-identified movement leaders, artists, and cultural innovators about how they define themselves racially.  
Hiba and Chevon also discuss the former 'Biggest Loser' trainer Jillian Michaels and her recent comments on Lizzo's body image, Lizzo's response and self-affirmations, and place Michaels' comments in the context of systemic racism, anti-blackness, and fatphobia. 
Resources (by order of mention) 
"Who Do We Think We Are" Colorlines Series
http://bit.ly/WhoThinkWeAreCLSeries
PolicyLink 
Radical Imagination Podcast 
"My Role in a Social Change Ecosystem" by Deepa Iyer
http://bit.ly/SocialChangeEcosystemIyer
Update on Moms For Housing Campaign
http://bit.ly/RFMomsForHousingUpdate
Angela Glover Blackwell on Twitter

Executive Producers: 
Hendel Leiva and Melissa Franqui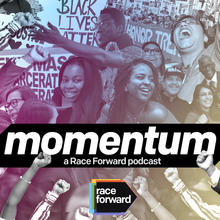 Photo credit (small photo in upper right):
Pax Ahimsa Gethen / Wikicommons
Momentum: A Race Forward Podcast features movement voices, stories, and strategies for racial justice. Co-hosts Chevon and Hiba give their unique takes on race and pop culture, and uplift narratives of hope, struggle, and joy, as we continue to build the momentum needed to advance racial justice in our policies, institutions, and culture. Build on your racial justice lens and get inspired to drive action by learning from organizational leaders and community activists.