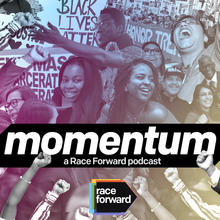 Photo credit (small photo in upper right corner):
Pax Ahimsa Gethen / Wikicommons
Momentum: A Race Forward Podcast features movement voices, stories, and strategies for racial justice. Co-hosts Chevon and Hiba give their unique takes on race and pop culture, and uplift narratives of hope, struggle, and joy, as we continue to build the momentum needed to advance racial justice in our policies, institutions, and culture. Build on your racial justice lens and get inspired to drive action by learning from organizational leaders and community activists.
Subscribe today!
EPISODE 02: The "Joker"and Cancel Culture, and Immigration & an Expanded Lens on the Crisis at the Border
Published Oct 18, 2019
In this episode of Momentum, Hiba and Chevon take on 'cancel culture' in the comedy world, discussing "Joker" director Todd Phillips recent comments about not being able to make comedy films because of "woke culture", and Saturday Night Live's recent hiring and firing of Shane Gillis. 
Race Forward's Research Associate Yirssi, joins the conversation to talk about her work with "Shattered Families" around the intersection of immigration enforcement and the child welfare system, and gives us insight into the current state of the work and what she saw on her recent trip to Arizona and Mexico. 
Our featured guest is Tsion Gurmu, Legal Director of the Black Alliance for Just Immigration (BAJI), who joins the podcast for a conversation on her background as an asylum seeker from Ethiopia, BAJI's efforts in lifting up black immigrant experiences with narrative projects such as their recent Black Lives At The Border webinar and direct work in Tapachula, Mexico.
Resources (by order of mention) 
Shattered Families 
www.raceforward.org/research/reports/shattered-families
Florence Immigrant & Refugee Rights Project 
www.firrp.org
RAICES 
www.raicestexas.org
Al Otro Lado 
www.alotrolado.org
Colorlines Reporting
www.colorlines.com/series/shattered-families
BAJI (Black Alliance for Just Immigration) 
www.baji.org
Black Lives At The Border (report and webinar)
www.baji.org/resources-webinars-black-lives-at-the-border/
http://bit.ly/BAJI_Webinar
Demands from the Assembly of African Migrants in Tapachula
http://bit.ly/demands-assembly
National Immigrant Integration Conference 
(October 20-22, 2019) 
www.niicnewamericandreams.org/register-2019
Executive Producers: 
Hendel Leiva and Melissa Franqui
Episode 01: Introduction To Momentum With Chevon and Hiba
Published Oct 1, 2019
In this very first episode of Momentum: A Race Forward Podcast, get to know co-hosts Hiba and Chevon as they record from the new Race Forward offices in midtown Manhattan, sipping on Big Freedia wine!
Chevon and Hiba discuss how they came to understand and become committed to racial justice work. Chevon talks about learning about systemic racism from an early age, and how it showed up in different ways throughout her life. Hiba talks about her Sudanese Muslim background, her work with the National Urban League, and her work coordinating convenings at Race Forward.
Executive Producers: 
Hendel Leiva and Melissa Franqui