11/2/2011
The Perilous Intersection of Immigration Enforcement and the Child Welfare System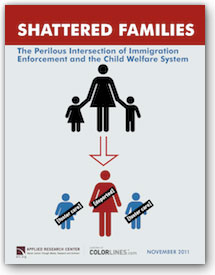 Download PDFs:


Brief overview of ARC's groundbreaking report in an easy to read format with key findings and policy recommendations.


Read ARC's unprecedented analysis of the problem, its underlying causes, local differences, and recommended solutions. Illustrated with vivid graphics, compelling stories, and extensive interviews with detained and deported parents, child welfare workers, attorneys and foreign consulates.


Inicie aquí para obtener el Resumen Ejecutivo de "Familias Destrozadas" en Español. Esto incluye los resultados claves, las recomendaciones de políticas publicas y un breve informe del reporte innovador de ARC. 
Key Findings: There are at least 5,100 children currently living in foster care who are prevented from uniting with their detained or deported parents.
If nothing changes, 15,000 more children may face a similar fate in the next 5 years.
This is a growing national problem, not one confined to border jurisdictions or states-- ARC identified at least 22 states where these cases have emerged.
Families are more likely to be separated where local police aggressively participate in immigration enforcement.
Immigrant victims of domestic violence are at particular risk of losing their children
ICE detention obstructs participation in Child Protective Services' plans for family unity.
Most child welfare departments lack systemic policies to keep families united when parents are detained or deported.
Federal, state and local governments must create explicit policies to protect families from separation.
These polices should stop the clock on the child welfare process and the immigration enforcement process to ensure that families can stay together and allow parents to make the best decisions for the care and custody of their children. 
PRESS RELEASE on the significance of ARC's findings - in English / en Español
Quote from ARC President Rinku Sen: "Immigration enforcement greatly increases the chances that families will never see each other again. Detaining and deporting parents shatter families and endanger the children left behind. It's unacceptable, un-American, and a clear sign that we need to revisit our immigration policies." 
Media inquiries, contact ARC Communications Manager at media@arc.org or 646-490-2772.
INFORMATIONAL WEBINAR - Available here. In this webinar, ARC reviews the findings in "Shattered Families" and present policy and practice recommendations for Department of Homeland Security, various levels of legislature, state child welfare departments, immigration and juvenile dependency attorneys and courts on how we can better protect families from separation and reunify families in a timely way. Includes presentations from Kara Finck, Attorney, Bronx Defenders, and Loreta Ruiz, Vice Consul for Protection, Consulate of Mexico – Santa Ana, CA.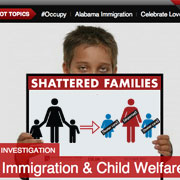 ARC's "Shattered Families" Investigative Package includes a poignant video (above) and Colorlines.com multi-part series that digs deeply into the perilous intersection of immigration enforcement and child welfare system.

Seth Freed Wessler reports from inside immigration detention centers and follows several families who were shattered. A follow-up story highlighted data ARC obtained through a Freedom of Information Act request. This data reveals nearly a quarter of people deported in first half of 2011 were parents with U.S. citizen children. If rates of parent deportation remain steady, the United States will expel as many parents in just 2 years as it did in a 10-year period before the Obama administration. 

Additionally, ARC President Rinku Sen describes how domestic violence victims are particularly vulnerable, and discusses why it's crucial to keep immigrant families together .
Save Felipe's Family! Father Deported - Kids Taken Away
Felipe Montes was deported to Mexico, away from his wife and three children, the four of whom are U.S. Citizens. Now the North Carolina Division of Social Services (DSS) wants to take his kids away from him forever. On May 29th, Montes is scheduled to appear via video from Mexico for a hearing where the child welfare department will ask a judge to start a process to have his 4, 2, and 1-year-old children adopted.
RESOURCES:
"How to Protect Your Parental Rights from Detention" by Florence Immigrant and Refugee Rights Project
Spanish / English (PDF)

"FAQ: Detained Parents with Minor Kids" by Americans for Immigrant Justice (formerly, FIAC)
Spanish / English (PDF)

"PROTECTING ASSETS & CHILD CUSTODY IN THE FACE OF DEPORTATION" by Appleseed
A Guide for Practitioners Assisting Immigrant Families (PDF)
 
"NIÑOS: A guide to help protect US-born children
in the event their parents are detained or deported" by Bret Helms
ADDITIONAL READINGS: