About
Race Forward's multiracial, intergenerational staff of racial equity experts are recognized thought leaders, race relations and political analysts, presenters, trainers, and commentators.
  
Our team regularly appears in the media to discuss the racial intersections and implications of key issues such as: education, reproductive justice, housing, LGBTQI+ movement, faith, voting rights, healthcare, immigration, and criminal justice. Our unique insights are gathered from our work with both community and government. 

Additionally, our reports and toolkits are often sourced in articles, media reports, curriculum, and for other uses. 

For interview, reprint, or any other media inquiry, please complete our Media Intake Form. For immediate requests, please also contact [email protected].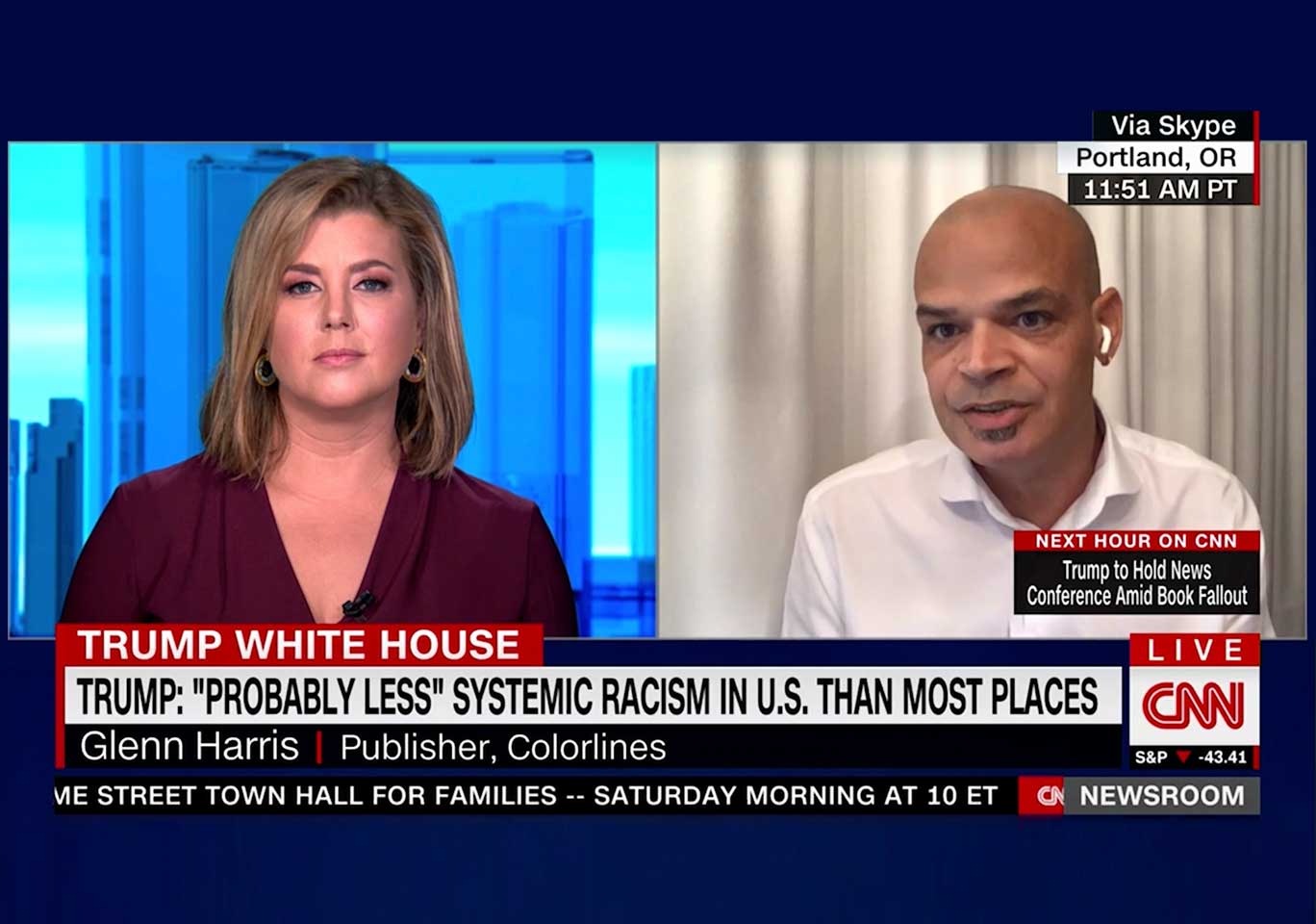 Statements
In the Wake of Another Racially Motivated Mass Shooting, It's Time to Change the Rhetoric
"For all people who say dialogue on racial equity and teaching about race and racism is unnecessary, this latest racial motivated attack suggests otherwise," Glenn Harris, President, Race Forward.
Affirmative Action Ruling an Attack on Equal Protection, Further Undermines Democracy
"Today's Supreme Court decision on affirmative action makes clear the current U.S. Supreme Court is intent on undermining the Constitutional framework of civil rights by refusing to recognize and address the systemic nature of racism," stated Glenn Harris, President of Race Forward.
RACE FORWARD HONORS THE LIFE AND LEGACY OF HARRY BELAFONTE
Race Forward sends condolences to and mourns with the family, friends and colleagues of Harry Belafonte on the loss of this iconic figure in American history.
Releases
Race Forward Marks Fair Housing Month with New Housing, Land and Development Initiative; Tools for Community Advocates and Government Practitioners
The national racial equity organization Race Forward today recognized Fair Housing Month, which occurs every April, and vowed to continue fighting to ensure housing is viewed as a public good rather than a commodity for speculation. Over the past months, the organization has released resources to support community advocates and government practitioners in their push for equitable housing and land policies. The tools emerged from a collaborative partnership between Community Change, PolicyLink and Race Forward, and was supported by Funders for Housing and Opportunity.
Race Forward and PolicyLink Announce Review of Federal Equity Action Plans Share Findings on Potential for Meaningful Action to Advance Racial Equity
One week after President Biden announced his second historic Executive Order 14091, mandating racial equity across policy and practice within the federal government, Race Forward and PolicyLink released their review of a sample of the Equity Action Plans (EAPs) presented early last year by federal agencies.
Race Forward Commends Biden Administration on Release of Second Historic Racial Equity Executive Order
Race Forward congratulates the Biden Administration on the issue of its second historic Executive Order mandating racial equity across policy and practice within the federal government.