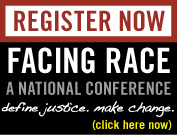 Premier Racial Justice Conference to be Held November 15-17 in Baltimore, MD
January 25, 2012 (New York, NY) -- Early bird registration is open for the Applied Research Center's 2012 Facing Race National Conference, to be held days after the presidential election, with Pulitzer Prize-winning author Junot Díaz serving as keynote speaker. Register today at the early bird price of $175 for Facing Race, November 15-17, at the Baltimore Hilton in Maryland: arc.org/facingrace.
Celebrating its 30th Anniversary, the Applied Research Center (ARC) is the nation's leading racial justice think tank and publisher of Colorlines.com, a daily news site. ARC's biennial Facing Race conference is the largest multi-racial gathering in the country for organizations and individuals on racial justice. Key issues to be addressed include 2012 election, economy, arts & culture, education reform, multiracial organizing, immigrant rights, and the development of racial justice leadership and training models. 
"We have recently seen enormous change and shifts in racial politics, some encouraging and others not so much. Our victories are the direct result of our collective effort to humanize people of color in the public discourse and keep an explicit racial analysis front and center in national debates," said ARC President Rinku Sen. "But there's clearly still a ton of work to do, difficult conversations to be had, and new strategies to cook up. Facing Race is where we prepare for the opportunities ahead."
ARC's mission to popularize racial justice led to the selection of celebrated Dominican-American author Junot Díaz as Facing Race keynote speaker. From his Pulitzer Prize-winning, NYTimes bestselling novel, The Brief and Wondrous Life of Oscar Wao, to his short stories and essays, Díaz is renowned for his bold, nuanced depiction of immigrants and people of color, moving far beyond stereotypes to deal with different degrees of historical and intergenerational trauma, issues of diasporic displacement, and immigration. Through Díaz's writing, the impact of internalized and structural oppression is revealed in a way that makes a discussion about racial justice accessible and engaging. An inspiration to and mentor of young writers of color, Díaz will be an exciting part of ARC's Facing Race conference, examining this political moment, how culture and art play a role in resistance, and how young people of color fit into a racially just narrative.
The post-election timing of ARC's 2012 Facing Race National Conference is fitting as the Applied Research Center celebrates its 30th Anniversary, reviewing key racial justice successes over the past 30 years and setting a bold, ambitious course for the next 30. Elections come and go, but the work to advance racial justice and achieve equity will continue. Facing Race attendees will talk politics and examine the cultural landscape from a racial justice perspective, evolving strategies for policy change in the coming years. Previous speakers have included Melissa Harris-Perry, Van Jones, Walter Mosley, Eddie Palmieri, Sherman Alexie.
About ARC – The Applied Research Center (ARC) is a 30-year-old racial justice think tank that uses media, research and activism to promote solutions. ARC's mission is to popularize racial justice and prepare people to fight for it. ARC also serves as the publisher of Colorlines.com, a daily news site offering award-winning reporting, analysis, and solutions to today's racial justice issues. For more information on ARC's work, please visit
www.arc.org
.
About FACING RACE – The 2012 Facing Race National Conference is ARC's 6th Facing Race.  Grown from a summit of 225 people in Berkeley in 2004 to more than 1,000 attendees in national conferences held in cities across the country - New York, Chicago, Oakland, and now Baltimore in 2012 - Facing Race is the largest national, multi-racial gathering of leaders, educators, journalists, activists, and artists on racial justice.
For press passes or media inquiries, please contact
media@arc.org
.
###