In our season finale, Demos President K. Sabeel Rahman joins Hiba and Chevon for an exciting conversation addressing racial and economic inequities to boldly fight for the future of American democracy. Sabeel shares his experiences growing up as a first generation Muslim Bangladeshi- American to become an Associate Professor of Law at Brooklyn Law School and his current role, leading the innovative work at Demos. 
In the conversation, Sabeel talks to our hosts about the inspiration behind his books, Democracy Against Domination, and Civic Power, his take on the fight for constitutional law to be applied equitably, and the important reconciliatory work that will be essential beyond the November election. 
Chevon and Hiba also talk about the recent win in Asheville, North Carolina which will see the city provide investment based reparations to its Black residents, and give a big shout out to our GARE (Government Alliance on Racial Equity) team members for their important contributions in this step towards racial justice. 
Thank you to all who submitted ratings and reviews –– we shout out some of our listeners, and we're looking forward to continuing to share the love!
Season Two of Momentum: A Race Forward Podcast will premiere in mid-August, but in the meantime, stay tuned for a special bonus episode about our upcoming Facing Race 2020 announcement! 
Resources (by order of mention) 
In historic move, North Carolina city approves reparations for Black residents (via USA Today) 
Asheville, NC, approves investment-based reparations for Black residents (via Twitter Moments)
https://twitter.com/i/events/1283493252067258368
Government Alliance on Race and Equity
https://www.racialequityalliance.org/
Demos 
K. Sabeel Rahman (Demos Introductory Video) 
Democracy Against Domination (Oxford University Press, 2016)
https://bit.ly/2ZRrle6
Civic Power (Cambridge University Press, 2019) 
Uprising (via Demos) 
https://www.demos.org/blog/uprising
We Need a Truth and Reconciliation Process for the Trump Era (via In These Times/ Demos) 
https://www.demos.org/media/we-need-truth-and-reconciliation-process-trump-era
K. Sabeel Rahman (Twitter)
https://twitter.com/ksabeelrahman
Executive Producers:
Hendel Leiva and Melissa Franqui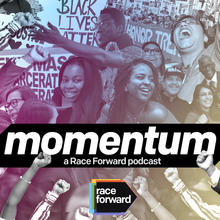 Photo credit (small photo in upper right):
Pax Ahimsa Gethen / Wikicommons
Momentum: A Race Forward Podcast features movement voices, stories, and strategies for racial justice. Co-hosts Chevon and Hiba give their unique takes on race and pop culture, and uplift narratives of hope, struggle, and joy, as we continue to build the momentum needed to advance racial justice in our policies, institutions, and culture. Build on your racial justice lens and get inspired to drive action by learning from organizational leaders and community activists.