On this episode of Momentum, Chevon is joined by Dennis Chin, Race Forward's Director of Strategic Initiatives for an important conversation around the recent/ ongoing anti-Asian attacks happening across the nation.
To root the conversation, Dennis shares his background in racial justice work, his experience recently having been targeted and accosted himself, and his experience working with Race Forward's AAPI Caucus in crafting a statement after last month's horrific acts of violence in Atlanta.
Chevon and Dennis share some examples relating to the history of anti-Asian racism in the United States, the history and complexities of how Asian immigrant communities and Asian-Americans have been positioned in America, and how narratives like the "Chinavirus" (in reference to COVID-19) and the "model minority myth" are harmful and can lead to the proliferation of racist acts of violence.
Lastly, Dennis and Chevon discuss the tensions that arise/exist between BIPOC communities that are a result of white supremacy and patriarchal systems at work, the conversations that are needed to dismantle these systems, and naming on the ground organizations that are directly addressing anti-Asian violence.
It is our hope that this episode helps ground you for the important work there is still to do over the next few months and years––  and like our hosts said "there is room for everybody in this fight".
We're excited to announce that Dennis will be back to co-host with Chevon the last two episodes of Season 2 of Momentum: A Race Forward Podcast, and we're looking forward to having you listen in!
Resources (by order of mention) 
Race Forward Decries Hate Violence Against Asian Americans In Atlanta And Across The Country 
https://bit.ly/39SpIRQ
Here's what we know about the metro Atlanta spa shootings that left 8 dead (via CNN)
https://cnn.it/3d3oXaN
A woman's brutal attack exposed a torrent of anti-Asian violence after the Atlanta shootings (via CNN)
https://cnn.it/2OABrx6
Asian Americans Advancing Justice 
https://www.advancingjustice-aajc.org/
Oakland Chinatown Coalition
www.facebook.com/chinatowncoalition
Yang Song And The Long History Of Targeting Asian American Sex Workers (via Hyphen Magazine) 
https://bit.ly/3muYrK8
Red Canary Song
https://www.redcanarysong.net/
Jeff's Chang's We Gon' Be Alright –– The Digital Series 
http://bealright.net/
The Life of Afong Moy, the First Chinese Woman in America (via Literary Hub) 
https://bit.ly/3rZDN67
The Accidental American by Rinku Sen (via Goodreads)
https://bit.ly/3uy4DUM
Freedom INC. 
https://freedom-inc.org/
Hollaback!
https://www.ihollaback.org
Safewalks NYC
www.instagram.com/safewalksnyc
CAAAV –– Organizing Asian Communities
Executive Producers: 
Hendel Leiva, Cheryl Cato Blakemore
Associate Producer/ Editor: 
Kendy Solis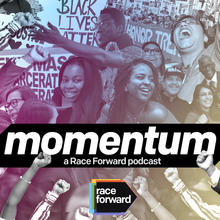 Photo credit (small photo in upper right):
Pax Ahimsa Gethen / Wikicommons
Momentum: A Race Forward Podcast features movement voices, stories, and strategies for racial justice. Co-hosts Chevon and Hiba give their unique takes on race and pop culture, and uplift narratives of hope, struggle, and joy, as we continue to build the momentum needed to advance racial justice in our policies, institutions, and culture. Build on your racial justice lens and get inspired to drive action by learning from organizational leaders and community activists.