On this episode of Momentum, Debra Gore-Mann, President and CEO of The Greenlining Institute joins Chevon for an energizing conversation on Greenlining's "The Solution to Redlining" work! 
Debra talks about becoming the first woman to hold the leadership position of The Greenlining Institute in the organization's 26-year history, and tells the stories of how the complexities of growing up in a biracial Black and Japanese family prepared her to lead Greenlining in 2021. She also talks about the history of Greenlining's work in relation to the concept of "Redlining" and makes the historical parallels that have happened for communities of color during the (now year-long) COVID-19 pandemic and vaccination efforts. Debra and Chevon discuss the fraught topic of recent racial attacks by Black youths against Asian elders and the systemic ways the violence is perpetrated, Greenlining's ongoing work supporting the Green New Deal and advocating for an Office of Racial Equity in California, and the clear ways advocating for/implementing racial equity policy at the local level can influence federal policy. 
We also preview a clip of Race Forwards' #RaceAnd The Movement Forward: Organizing For Racial Justice After the Inauguration, where Race Forward and other organizers/activists discussed the Biden Administration's first month in office, and analyzed steps taken so far in crafting federal policy to address urgent racial justice priorities. Check the shownotes for video of the full online event!
Resources (by order of mention) 
#RaceAnd The Movement Forward: Organizing For Racial Justice After The Inauguration
The Greenlining Institute
Official Website 
The Greenlined Economy Guidebook 
"Algorithmic Bias Explained: How Automated Decision-Making Becomes Automated Discrimination." (via CNET)
Debra Gore-Mann
Building a Nation Where Communities of Color Thrive: Debra Gore-Mann on Why She Joined Greenlining
Toward a Shared Liberation (Debra on the recent incidents of anti-Asian violence) 
Bank Boards Need More Women of Color by Debra Gore-Mann, Rawan Elhalaby
Instagram
Executive Producers: 
Hendel Leiva, Cheryl Cato Blakemore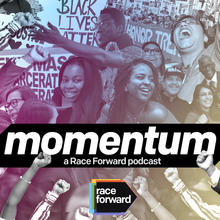 Photo credit (small photo in upper right):
Pax Ahimsa Gethen / Wikicommons
Momentum: A Race Forward Podcast features movement voices, stories, and strategies for racial justice. Co-hosts Chevon and Hiba give their unique takes on race and pop culture, and uplift narratives of hope, struggle, and joy, as we continue to build the momentum needed to advance racial justice in our policies, institutions, and culture. Build on your racial justice lens and get inspired to drive action by learning from organizational leaders and community activists.