After a two month hiatus, Chevon and Hiba are back!

In this hour long conversation, our hosts address the events of the past few months, from the coronavirus pandemic to the recent Black lives lost to police violence that have sparked a movement— and the resulting rebellion happening across the nation. 
In this truth-to-power episode, honest discussions are had on allyship, the insidious ways white supremacy shows up in our everyday lives, and ways to continue pushing back against systemic racism. 
Below you'll find links to everything covered in the episode, including articles, podcasts, mental health resources, and more.
In our next episode, Race Forward's President Glenn Harris will be joining Hiba and Chevon for a discussion on the current moment and looking ahead to the future of racial justice work and building a just democracy — stay through to the end to hear a special message from Glenn.
––
Resources (by order of mention) 
 
"Momentum" in roundup lists
#BlackoutTuesday Resources

Educate Yourself: 13 Podcast Episodes About Black Life in America to Download Right Now

Anti-Racism Resources for White People

Asian Boss Girl: Resources For Allyship 

Episode Resources
"My Role in a Social Change Ecosystem" by Deepa Iyer
http://bit.ly/SocialChangeEcosystemIyer

Eater: Mutual Aid Groups Band Together to Feed Communities Through Crisis

Mapping Police Violence 

Colorlines Reporting 

"The Unmattering of Black Lives" by Kimberlé Williams Crenshaw
https://newrepublic.com/article/157769/unmattering-black-lives

Race Forward's Race Reporting Guide 
www.raceforward.org/reporting-guide
 
Drop the I-Word
www.raceforward.org/practice/tools/drop-i-word

Public Health Experts Weigh In on COVID-19 Risks at Protests
https://www.colorlines.com/articles/public-health-experts-weigh-covid-19-risks-protests

Unsung: The Series

Mental Health Resources 
Open Path Collective
Therapy For Black Girls
The Homecoming Podcast with Dr. Thema

Dive in Well 

HealHaus

Inclusive Therapists

Ethel's Club
The Nap Ministry (resources) 
https://linktr.ee/thenapministry
Music Credit: 
HaTom - Asleep 

Executive Producers: 
Hendel Leiva and Melissa Franqui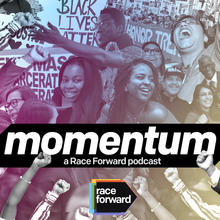 Photo credit (small photo in upper right):
Pax Ahimsa Gethen / Wikicommons
Momentum: A Race Forward Podcast features movement voices, stories, and strategies for racial justice. Co-hosts Chevon and Hiba give their unique takes on race and pop culture, and uplift narratives of hope, struggle, and joy, as we continue to build the momentum needed to advance racial justice in our policies, institutions, and culture. Build on your racial justice lens and get inspired to drive action by learning from organizational leaders and community activists.