We're talking all about the upcoming Census 2020, and the "My Family Matters, My Family Counts" campaign! 
In this episode, Maria Dautruche, Vice President for Foundation Partnerships at the National Urban League joins Hiba, Chevon, and Elana Needle, to talk about her work in fundraising, racial equity, civic engagement, and discusses her role in the reproductive justice field as co-founder of New Voices For Reproductive Justice. 
Maria describes the framework of the "My Family Matters, My Family Counts" campaign, answers questions about families being accurately counted on Census Day, and talks about the impact of the census on communities of color in the next decade.  
We preview "What is Energy Democracy?", our new video available on YouTube, that uplifts the events of the 2019 Strategic Energy Democracy Convening. Thirty-six energy democracy leaders from across the nation convened to build collective power around the mission of advancing the movement to democratize energy, while placing an important emphasis on the centrality of race to energy issues.
*Producer's note: In this episode there are references to in-person organizing for Census 2020. In the wake of the Coronavirus (COVID-19) emergency, we encourage all organizing to take place by phone or online. Please see our official statement below. 
RACE FORWARD STATEMENT ON THE CORONAVIRUS EMERGENCY, OFFICIAL RESPONSE AND ITS IMPACTS ON COMMUNITIES OF COLOR
Resources (by order of mention) 
My Family Votes, My Family Counts 
Census Website (take the census online) 
What Is Energy Democracy? (Video) 
W.K. Kellogg Foundation
https://www.wkkf.org/who-we-are/overview
National Urban League
New Voices For Reproductive Justice 
http://www.newvoicespittsburgh.org
Racial Equity Anchor Twitter
Maria Dautruche Twitter 
https://twitter.com/MariaDautruche
Maria Dautruce Instagram 
https://twitter.com/MariaDautruche
My Black Counts Instagram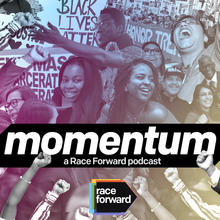 Photo credit (small photo in upper right):
Pax Ahimsa Gethen / Wikicommons
Momentum: A Race Forward Podcast features movement voices, stories, and strategies for racial justice. Co-hosts Chevon and Hiba give their unique takes on race and pop culture, and uplift narratives of hope, struggle, and joy, as we continue to build the momentum needed to advance racial justice in our policies, institutions, and culture. Build on your racial justice lens and get inspired to drive action by learning from organizational leaders and community activists.