Kassandra Frederique, managing director of policy, advocacy and campaigns at Drug Policy Alliance, joins Chevon and Hiba to talk about her work in advancing policy and community solutions to reduce the harms associated with drug use and the carceral system. They also touch on the importance of language as an organizing tool, and provide a framework that demonstrates racial justice work and marijuana policy reform are inextricably linked. 
Resources (by order of mention) 
Drug Policy Alliance 
Facebook
Twitter 
Instagram 
www.instagram.com/drugpolicyalliance
Vocal New York 
Follow Kassandra Frederique on Twitter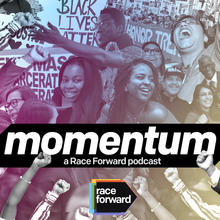 Photo credit (small photo in upper right):
Pax Ahimsa Gethen / Wikicommons
Momentum: A Race Forward Podcast features movement voices, stories, and strategies for racial justice. Co-hosts Chevon and Hiba give their unique takes on race and pop culture, and uplift narratives of hope, struggle, and joy, as we continue to build the momentum needed to advance racial justice in our policies, institutions, and culture. Build on your racial justice lens and get inspired to drive action by learning from organizational leaders and community activists.