With one week to go until the 2020 Presidential Election, Hiba and Chevon bring you an election season-themed episode for you to listen to as you make plans to vote [before, or on] Tuesday November 3rd! 
In this episode, Chevon and Hiba are joined by Nicole Porter, Director of Advocacy for The Sentencing Project,  who talks about the newly-released report Locked Out 2020: Estimates of People Denied Voting Rights Due to a Felony Conviction. The report reveals "5.2 million Americans [that] are forbidden to vote because of felony disenfranchisement, or laws restricting voting rights for those convicted of felony-level crimes." Nicole also talks about her work managing The Sentencing Project's state and local advocacy efforts on sentencing reform, voting rights, and eliminating racial disparities in the criminal justice system, and provides personal anecdotes to highlight the importance of each of these topics. 
Hiba and Chevon also discuss recent events in culture in the lead-up to the presidential election, including Ice Cube's recent controversial meeting with the Trump Administration to promote his "Contract With Black America", and P. Diddy's endorsement of Vice President Joe Biden––a reversal from his "Hold The Black Vote" stance earlier this year. In this context, Chevon talks about the importance of creating your own advocacy efforts and how voting is "one lever we can pull" in the broader fight for racial justice. 
Also, BIG. NEWS. 
Momentum: A Race Forward Podcast will have a special LIVE post-election episode at Facing Race: A National Virtual Conference taking place Tuesday, November 10th. Join us for the largest multiracial, intergenerational, gathering of racial justice movement making, where podcasting will be featured for the very first time as part of the programming!
Resources (by order of mention) 
Facing Race 2020 Program 
https://facingrace.raceforward.org/program/full-program
The Inside Story of how Ice Cube Joined Forces with Donald Trump (via Politico)
https://politi.co/3jpAr8q
Diddy Offically Endorses Joe Biden, Launches His Own Political Party (via Billboard)
Locked Out 2020: Estimates of People Denied Voting Rights Due to a Felony Conviction (via The Sentencing Project)
[Topic] Felony Disenfranchisement (via Colorlines)
[Topic] Voter Suppression (via Colorlines)
Snoop Dogg Says 2020 Elections First Time He Votes (via USA Today) 
Reform, Abolish or Defund the Police—Explained (via Colorlines) 
#TogetherWeVote #WeVoteWeCount Campaign (via the Racial Justice Anchor Orgs)
https://provoc.me/togetherwevote/
History of the term Felony
https://thelawdictionary.org/felony/
Jim Crow's Lasting Legacy At The Ballot Box (via The Marshall Project) 
Nicole Porter 
Instagram: https://instagram.com/nicoleporter
Twitter: https://twitter.com/nicoleporter
Executive Producers: 
Hendel Leiva, Cheryl D. Cato Blakemore
Associate Producer/ Editor: Kendy Solis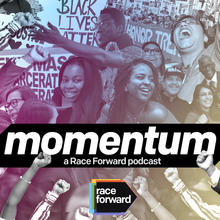 Photo credit (small photo in upper right):
Pax Ahimsa Gethen / Wikicommons
Momentum: A Race Forward Podcast features movement voices, stories, and strategies for racial justice. Co-hosts Chevon and Hiba give their unique takes on race and pop culture, and uplift narratives of hope, struggle, and joy, as we continue to build the momentum needed to advance racial justice in our policies, institutions, and culture. Build on your racial justice lens and get inspired to drive action by learning from organizational leaders and community activists.