In the midst of the continued fallout from Dave Chapelle's transphobic jokes from his Netflix comedy special, Hiba and our guest co-host Dennis are here to break it all down – and have the important conversation around narrative, free speech, and the link to potential hate speech/ actions. 
Social justice leader and media critic Dr. John Paul Higgs (they/them) joins us to talk about their article "Why Netflix Deserves Some of the Heat for Dave Chapelle's Transphobic Comments." Throughout the conversation Dr. Higgins touches on important topics such as the erasure of Black trans people, the damaging narratives and tropes that are still being leveled against trans, queer, and non-binary folk, and "real" accountability versus "cancel culture."
Update: Chevon will return from her sabbatical and will be on the next episode of Momentum –– a big thank you to Dennis for filling in!
Reminder: Race Forward's 40th Anniversary Celebration is taking place November 18th! RSVP for our special virtual gala celebrating 40 years of catalyzing the racial justice movement, streaming on Facebook and YouTube Live. Make sure to tune in for an evening of memorable historic highlights, humor, and cultural performances!
RSVP: https://bit.ly/RaceForward40
Resources (by order of mention)
Netflix Staff Raised Concerns About Chappelle Special Before Its Release (via Bloomberg) 
Why Netflix Deserves Some of the Heat for Dave Chapelle's Transphobic Comments (via Bitch Media) 
Terra Fields' Tweets on Netflix/ "The Closer"
Netflix Employee Walkout Grows Tense as Trans Rights Protesters Clash With Dave Chappelle Supporters (via Variety) 
Dave Chappelle says he'll meet with transgender critics, but he's 'not bending to anybody's demands' (via CNN)
Dr. John Paul Higgins (They/Them) 
Official Website 
Twitter
Instagram 
www.instagram.com/doctorjonpaul
Executive Producers: 
Hendel Leiva, Cheryl Cato Blakemore
Associate Producer/ Editor: 
Kendy Solis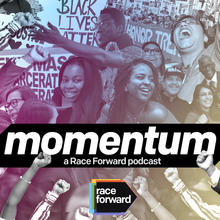 Photo credit (small photo in upper right):
Pax Ahimsa Gethen / Wikicommons
Momentum: A Race Forward Podcast features movement voices, stories, and strategies for racial justice. Co-hosts Chevon and Hiba give their unique takes on race and pop culture, and uplift narratives of hope, struggle, and joy, as we continue to build the momentum needed to advance racial justice in our policies, institutions, and culture. Build on your racial justice lens and get inspired to drive action by learning from organizational leaders and community activists.