For our season premiere, Chevon and Hiba link up with Blk Pod Collective's Founder & Chief Creative Officer, Ona Oghogho, and Membership Director Sheunopa Mugobogobo to talk about the growing Black podcasting landscape and the importance of building community and showing solidarity in podcasting. 
In the conversation Ona and Shenuopa talk about their collaboration in building up Blk Pod Collective, and how their efforts to create systemic change resulted in the Blk Podfest Micro Con at the Podfest Global Summit which brought together over 1,500 attendees last month. 
Shenuopa and Ona also discuss their experiences that led them to the podcasting space, their individual philosophies in podcasting, the importance of ownership, and the ways Blk Pod Collective is aiming to become the "one-stop-shop for all of your podcasting needs to help you on your journey to work with Black creatives."
Hiba and Chevon also talk about the big news items in the last couple of months, including Senator Kamala Harris' Vice Presidential nomination, the protests in Kenosha, Wisconsin that resulted from the police involved shooting of Jacob Blake, and they give a heartfelt "rest in power" to Chadwick Boseman who tragically passed a couple of weeks ago following his undisclosed battle with cancer. 
Facing Race: A National Virtual Conference is less than two months away! –– have you gotten your tickets yet?
Resources (by order of mention) 
Facing Race Tickets 
https://facingrace.raceforward.org/
It's Official: Senator Kamala Harris Is the Democratic VP Nominee (via Colorlines) 
https://www.colorlines.com/articles/its-official-senator-kamala-harris-democratic-vp-nominee
Jacob Blake Is Shot By Police in Wisconsin, Inspiring Protests (via Colorlines)
https://www.colorlines.com/articles/jacob-blake-shot-police-wisconsin-inspiring-protests
White Teen Charged With Death of 2 Protestors in Kenosha, Wisconsin
https://www.colorlines.com/articles/white-teen-charged-death-2-protestors-kenosha-wisconsin
Native Land (find out more about local Indigenous territories and languages)
Kenosha Protests, Violence Expose Racial Disparities Among The Worst In The Country
https://www.npr.org/2020/09/02/908605928/kenosha-protests-violence-expose-racial-disparities-among-the-worst-in-the-count
Actor Chadwick Boseman, the First Black Superhero, Dies at 43
https://www.colorlines.com/articles/actor-chadwick-boseman-first-black-superhero-dies-43
Chadwick Boseman Gets Emotional About Black Panther's Cultural Impact (via SiriusXM)
Blk Pod Collective 
https://www.blkpodcollective.com/
Blk Pod Collective (The Podcast) 
https://podcasts.apple.com/us/podcast/blk-pod-collective-the-podcast/id1509140101
Highkey Woke (Hosted by Sheunopa Mugobogobo and Symone Dunn)
https://podcasts.apple.com/us/podcast/highkey-woke/id1463285527
Blk Podfest Micro Con 2020: Attendee Insight
https://www.blkpodcollective.com/thecollectiveblog/blk-podfest-attendee-insight
Is Podcasting a Hobby or Potential Career for You?
https://www.blkpodcollective.com/thecollectiveblog/Podcastinghobbyvscareer
Podcasting Tip: Things to Plan for Before Starting https://www.blkpodcollective.com/thecollectiveblog/podcastdevelopment
Blk Pod Collective on Instagram 
https://www.instagram.com/blkpodcollective/
Executive Producers: 
Hendel Leiva and Jeff Chang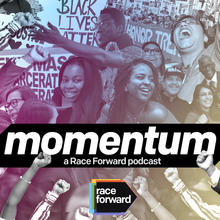 Photo credit (small photo in upper right):
Pax Ahimsa Gethen / Wikicommons
Momentum: A Race Forward Podcast features movement voices, stories, and strategies for racial justice. Co-hosts Chevon and Hiba give their unique takes on race and pop culture, and uplift narratives of hope, struggle, and joy, as we continue to build the momentum needed to advance racial justice in our policies, institutions, and culture. Build on your racial justice lens and get inspired to drive action by learning from organizational leaders and community activists.