In this very first episode of Momentum: A Race Forward Podcast, get to know co-hosts Hiba and Chevon as they record from the new Race Forward offices in midtown Manhattan, sipping on Big Freedia wine!
Chevon and Hiba discuss how they came to understand and become committed to racial justice work. Chevon talks about learning about systemic racism from an early age, and how it showed up in different ways throughout her life. Hiba talks about her Sudanese Muslim background, her work with the National Urban League, and her work coordinating convenings at Race Forward.
Executive Producers: 
Hendel Leiva and Melissa Franqui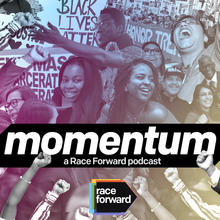 Photo credit (small photo in upper right):
Pax Ahimsa Gethen / Wikicommons
Momentum: A Race Forward Podcast features movement voices, stories, and strategies for racial justice. Co-hosts Chevon and Hiba give their unique takes on race and pop culture, and uplift narratives of hope, struggle, and joy, as we continue to build the momentum needed to advance racial justice in our policies, institutions, and culture. Build on your racial justice lens and get inspired to drive action by learning from organizational leaders and community activists.