In this bonus episode of Momentum, Chevon talks to Hiba (who is also Race Forward's Conference and Convenings Manager) about everything you need to know about Facing Race: A National Virtual Conference taking place November 10 - 12, 2020!
Facing Race is the space for racial justice movement making and is the largest multiracial, intergenerational gathering for organizers, educators, creatives, and other leaders. In this special 10 minute episode, you'll learn all about: 
What is Facing Race?
Why is Facing Race going virtual?
What does registration and pricing look like?
What about accessibility for folks with disabilities or a special need?
Will there still be vendor and sponsorship opportunities?
Thank you for your support and patience as we've worked to convert Facing Race into a virtual experience; we're looking forward to having you join us in November for the first ever Facing Race happening entirely online! 
Also, stay tuned for the premiere of Season 2 of Momentum: A Race Forward Podcast, coming soon!
Resources (by order of mention) 
Facing Race 
https://facingrace.raceforward.org/
Facing Race FAQs 
https://facingrace.raceforward.org/faq
Registration and Pricing 
https://facingrace.raceforward.org/register
Exhibition and Advertising 
https://facingrace.raceforward.org/participate/exhibition-advertising
Sponsorship Information
https://facingrace.raceforward.org/participate/sponsor
Executive Producers: 
Hendel Leiva and Jeff Chang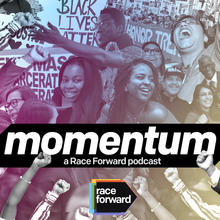 Photo credit (small photo in upper right):
Pax Ahimsa Gethen / Wikicommons
Momentum: A Race Forward Podcast features movement voices, stories, and strategies for racial justice. Co-hosts Chevon and Hiba give their unique takes on race and pop culture, and uplift narratives of hope, struggle, and joy, as we continue to build the momentum needed to advance racial justice in our policies, institutions, and culture. Build on your racial justice lens and get inspired to drive action by learning from organizational leaders and community activists.