July 10, 2012
GOOD FOOD AND GOOD JOBS FOR ALL:
Challenges and Opportunities to Advance Racial and Economic Equity in the Food System
A new report released by the Applied Research Center finds stronger collaboration is needed between movements for "good food" and "good jobs" in order to advance racial and economic equity in the food system. Download executive summary, and the full report. Press Release available for journalists.
 

 Report findings show that low-income people and people of color are most disproportionately, negatively impacted by: obesity, food security, "food deserts," wage and hour violations, and lack of benefits. Yet, the movements for good food and labor rights do not typically work together towards food justice.

 

KEY RECOMMENDATIONS of "Good Food and Good Jobs For All: Challenges and Opportunities to Advance Racial and Economic Equity in the Food System:"

 

 A free webinar will be held on July 12, 2012 at 1pmET/10amPT to present the findings of "Good Food and Good Jobs For All." For more information and to register visit arc.org/webinars. 

 

Read ARC President Rinku Sen's Movement Notes blogpost "We Need Better Food. We Need Fairer Food Jobs. So Let's Get Both" and continuing coverage of food justice in Colorlines.com "How We Eat" series.
---
The Applied Research Center recently embarked on a broad survey of the food system, to map out the race, gender and class of workers along the supply chain. Our findings, detailed in the new report "The Color of Food," were sadly not surprising. Download report here.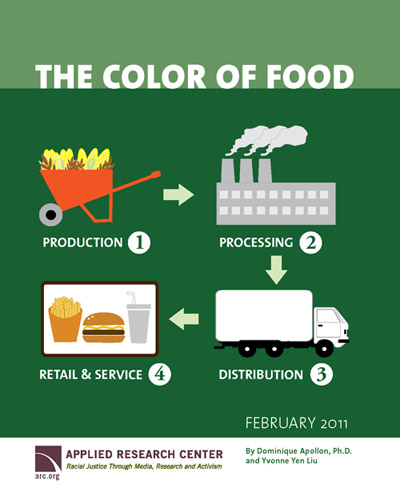 Colorlines.com coommentary on "The Color of Food" report can be found here: "America's Food Sweatshops." Continuing coverage of food justice in "How We Eat " Colorlines.com series.