7/10/2012
GOOD FOOD AND GOOD JOBS FOR ALL:
Challenges and Opportunities to Advance Racial and Economic Equity in the Food System
A new report released by the Applied Research Center finds stronger collaboration is needed between movements for "good food" and "good jobs" in order to advance racial and economic equity in the food system. Download executive summary, and the full report. Press Release available for journalists.
 

 Report findings show that low-income people and people of color are most disproportionately, negatively impacted by: obesity, food security, "food deserts," wage and hour violations, and lack of benefits. Yet, the movements for good food and labor rights do not typically work together towards food justice.

 

KEY RECOMMENDATIONS of "Good Food and Good Jobs For All: Challenges and Opportunities to Advance Racial and Economic Equity in the Food System:"

Pursue intersectional analysis and foster collaborative leadership of those most negatively impacted in the food chain
Create alternatives while challenging current dominant food and economic systems
Build multiracial coalitions that overlap between good food and labor and promote both
Conduct additional research and develop resources such as tools and training

 

 A free webinar will be held on July 12, 2012 at 1pmET/10amPT to present the findings of "Good Food and Good Jobs For All." For more information and to register visit arc.org/webinars. 

 

Read ARC President Rinku Sen's Movement Notes blogpost "We Need Better Food. We Need Fairer Food Jobs. So Let's Get Both" and continuing coverage of food justice in Colorlines.com "How We Eat" series.
The Applied Research Center recently embarked on a broad survey of the food system, to map out the race, gender and class of workers along the supply chain. Our findings, detailed in the new report "The Color of Food," were sadly not surprising. Download report here.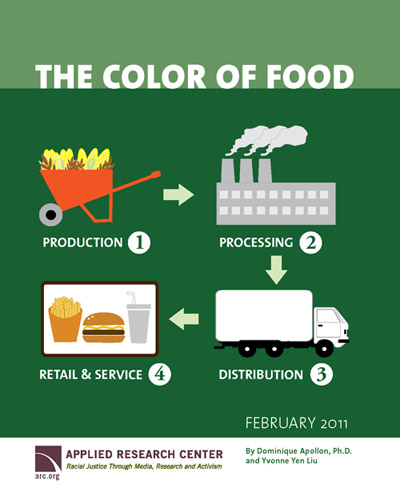 People of color typically make less than whites working in the food chain. Half of white food workers earn $25,024 a year, while workers of color make $5,675 less than that. This wage gap plays out in all four sectors of the food system, with largest income divides occurring in the food processing and distribution sectors. Women working in the food chain draw further penalties in wages, especially women of color. For every dollar a white male worker earns, women of color earn almost half of that.
Few people of color hold management positions in the food system. Whites dominate high-wage professional and management occupations; three out of every four managers in the food system are white. Almost half of white men working in the food chain were employed as managers, while less than 10 percent of workers of color held comparable positions.
People of color are concentrated in low-wage jobs in the food chain. According to the 2008 Census, people of color make up 34.6 percent of the population (that percentage is expected to rise as 2010 Census data becomes available). But workers of color are represented at a level almost one and a half times that in sectors of the food chain. For instance, 50 percent of food production workers are people of color. This includes farm workers, 65 percent of whom are Latino.
Colorlines.com coommentary on "The Color of Food" report can be found here: "America's Food Sweatshops." Continuing coverage of food justice in "How We Eat " Colorlines.com series.