June 8, 2013
For the past several years, Applied Research Center (ARC) has coordinated the Better Together program — a multi-faceted initiative that combines research, media, and leadership development to advance racial justice and LGBT liberation. The program is supported and made possible by a grant from the Arcus Foundation.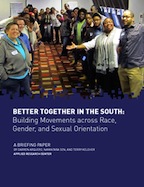 In 2012, ARC initiated a year-long Better Together Southern Leadership and Action Cohort — connecting and supporting a diverse set of Southern leaders working at the intersection of racial and LGBT justice in their communities. To convene the Cohort, ARC established a working partnership with Southerners on New Ground (SONG), a 20-year-old, regional, queer liberation organization made up of people of color, immigrants, undocumented people, people with disabilities and working class, rural and small-town LGBTQ people in the South.The current Better Together Cohort includes twenty-two leaders and organizers from eleven organizations, spanning ten states.
Our newest briefing paper, Better Together in the South: Building Movements across Race, Gender, and Sexual Orientation, looks at the challenges and opportunities that arise when we connect the movement for racial justice with that of LGBT liberation in the U.S. South. Drawing on lessons learned from the cohort, the paper shares strategies for advancing change in the South and beyond. Three key themes for progressive movement building in the South are intersectionality, unity and visibility. To illustrate these themes in action, we present brief profiles of four organizations: the Freedom Center for Social Justice (FCSJ) in Charlotte, BreakOUT! in New Orleans, SPARK in Atlanta, and The Center for Artistic Revolution (CAR) in Arkansas.
Join Colorlines.com's news editor Jamilah King as she hosts a live video chat with Better Together cohort member Bishop Tonyia Rawls (Freedom Center for Social Justice), discussing the communities she is helping to bring together, and her thoughts on what the rest of the country can be learning from the South. Tweet your questions in with the hashtag #CLchat.
Read the Press Release here. For media inquiries and interview requests, contact media@arc.org. 
BETTER TOGETHER: Research Findings on the Relationship Between Racial Justice Organizations and LGBT Communities
September 2010 
 
 
BETTER TOGETHER IN ACTION:
Organizations Working to Integrate Racial Justice and LGBT Issues
June 2012


DOWNLOAD THE FULL REPORT  

DOWNLOAD THE EXECUTIVE SUMMARY
 
 


DOWNLOAD THE REPORT 

This study examines the relationship between racial justice organizations and lesbian, gay, bisexual, and transgender (LGBT) communities, with the understanding that communities of color themselves, including their LGBT members, have a good deal at stake in strengthening that relationship. The inquiry included a survey of 81 organizations of color and interviews with 32 leaders of racial justice and LGBT organizations. Primary recommendations include:

Increase support for groups of color
Invest in tools for strategic clarity
Lift up LGBT leaders of color
Build the media and communications infrastructure

Click here to view the press release.

 
 

Many organizations working on racial equity also engage in lesbian, gay, bisexual, and transgender (LGBT) advocacy. However, these examples are not highly visible. The case studies in this report embody models of possible collaborations between racial and LGBT justice movements. There is the story of a racial justice organization (SAN) that engages in LGBT advocacy, while groups, like SONG and FIERCE, are led by LGBT leaders of color who advocate broadly for social and economic issues, in addition to equity for queer and transgender people. These groups strengthen their missions by combining both intersectional analysis and strategic action on race, class and sexuality.

UPDATE: Better Together in Action has been edited since its original publication (June 7, 2012).
---

Presentation by Rinku Sen, ARC President on ARC's Better Together Report