August 20, 2009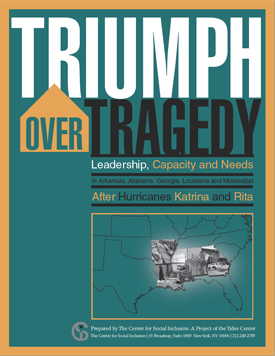 Leadership, Capacity and Needs in Arkansas, Alabama, Georgia, Louisiana and Mississippi After Hurricanes Katrina and Rita
"The South is best understood through the first person stories of triumph over formidable barriers and challenges to a way to self-determination, empowerment and transformed community."
Building healthy, sustainable and equitable communities, and by extension a strong nation, requires civic and social engagement of community members. Civic and social engagement, in turn, requires leadership to create engagement opportunities and to facilitate it. There are many forms of community leadership, including electoral, nonprofit, associational and informal leadership. All are important. In particular, this report focuses on nonprofit, associational and informal leadership capacity: its successes, its needs and the nature and level of investment indicated to support leadership in Alabama, Arkansas, Georgia, Louisiana and Mississippi which can help meet community building goals.
Communities and groups facing barriers to opportunity before the 2005 hurricane season face the greatest rebuilding challenges and are disproportionately Black, Asian, Latino and rural White communities.
Weak social and physical infrastructure both predated the storm season and contributed to its devastating impact. This is a critical point. If the area had strong social infrastructure, including an array of community-based organizations with research, policy advocacy and communications capacity or support, the state of the physical infrastructure (e.g., levees in New Orleans, public transit and adequate housing), political infrastructure (e.g., lobbying, advocacy and organizing), and social infrastructure (e.g., educational quality, nonprofit capacity, neighborhood associations) may have been stronger and the capacity to both provide relief, direct support and organize for healthy rebuilding would have been stronger.
Important nonprofit community building infrastructure existed before the storm season, but was under-resourced at a per capita ratio of 2 to 1 compared to the national average.
Groups which existed prior to the hurricanes and had some national support appear to be better resourced. Groups and individuals that began work after the hurricanes appear to be less likely to thrive, in part because funding has not supported their development and they lack other national organizational relationships that could assist them in building their infrastructure. A notable exception is groups whose work includes direct relief that draws volunteers from outside the region. Organizations in Arkansas and Georgia, which received large numbers of displaced Louisiana residents and some Mississippi residents, had little capacity to support either the needs of displaced people, or incorporate the needs into their strategies for community building. This is critical, given the tens of thousands of people still displaced in these states, many of whom have been historically marginalized and thus are less able to return to their homes to rebuild.
In each state, there were gaps in organizational capacity.
All nonprofits interviewed need more support than they have received. On the whole, education reform, community planning capacity, civic engagement infrastructure and the capacity for innovative resource development strategies need strengthening. Little capacity exists for inter-state collaboration or federal interventions in the rebuilding process.
In all studied states there are important examples of effective and impressive leadership at work. These "success stories" share important characteristics:
a. Leadership with a vision for how to build community participation and multi-institutional and multi-sector relationships
b. The ability to recognize the relationship between several issue areas and navigate them while maintaining their mission
c. Somewhat diverse resources supporting the work – from funding to local, regional and national partnerships
Collaborative work needs to be strengthened.
Relationships, networks and alliances necessary to focus attention and get results do not always exist or do not have the geographic coverage they need. Racial tensions exist between communities and this manifests in the power dynamics among leadership. There are a number of successful and impressive groups in the region, but peer-to-peer learning opportunities are virtually non-existent so they are unable to share their knowledge, experiences and strategies regionally.
Challenges faced by communities across the Gulf Coast south and states indirectly impacted by the 2005 hurricane season, are surmountable. People and organizations have shown enormous resilience and continue to provide entry points to create effective community building. For this to fully happen, funders can provide three types of critical support: 1) core support grants to stabilize and build existing organizations; 2) money for relationship and alliance-building within states and across the region; and 3) financial and technical assistance support for the creation of capacities (whether new or existing groups) to address gaps in the work.
Because national groups need relationships with local groups to be successful, they also have a critical role to play in supporting local groups. National groups can: 1) share financial resources with local groups to accomplish goals and meet grant obligations; and 2) provide or connect local groups with the technical assistance and other forms of in-kind support, which builds local capacity. National groups can also publicize the contributions of local groups in their work and help connect local partners with funders, policy makers and business leaders.