August 30, 2010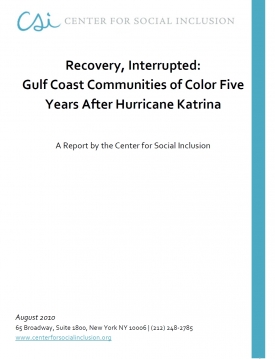 Recovery, Interrupted: Gulf Coast Communities of Color Five Years After Hurricane Katrina, a new report by the Center for Social Inclusion, reminds us that disasters are not simply about strong winds or powerful explosions. They are about access to opportunity. Whether quality health services, educational options and public transit are available to and affordable for residents has a tremendous influence on how a community will fare in the face of threats. All too often, the communities that are most vulnerable to disaster are communities of color or poor communities of all races that lack access to such critical opportunities.
In these challenging times, Americans must contend with corporate irresponsibility—like British Petroleum's failure to address safety concerns on its rigs, increasingly frequent hurricanes and tornadoes in the Gulf Coast region and beyond, and crumbling roads, bridges and schoolhouses. Less obvious but even more important are the increasing poverty and social dislocation experienced by too many Americans. In 2009, the poverty rate hit an 11-year high of 13.2%— representing nearly 40 million individuals— and between 2000 and 2009 median weekly wages fell for high school and college graduates alike.
Some argue that at this time of economic hardship, we cannot invest in public systems and services. However, this approach ignores our long, successful history of strengthening our nation by investing in people and communities. It also overlooks the costs that disasters will continue to impose on our economy, our communities and our families if we fail to invest for resilience. If we invest in policy solutions that truly work for all of us—including Americans of color, we can both build resilience to natural and man-made disasters and lay the groundwork for prosperity in communities of all colors in the Gulf Coast and beyond.
In Recovery, Interrupted, CSI urges federal policymakers to:
Establish criteria for identifying vulnerable communities that include social and economic factors;
Build resilience by including residents of vulnerable areas in planning and decision-making processes and investing in solutions that make sense for communities; and
Recognize and invest in sustainable, community-scale alternatives for meeting our energy needs.
RELATED PUBLICATIONS:
Race to Rebuild: The Color of Opportunity and the Future of New Orleans (August 2006)
Triumph Over Tragedy: Leadership, Capacity and Needs in Arkansas, Alabama, Georgia, Louisiana and Mississippi After Hurricanes Katrina and Rita (October 2007)
Last updated Monday, August 30, 2010.