January 17, 2008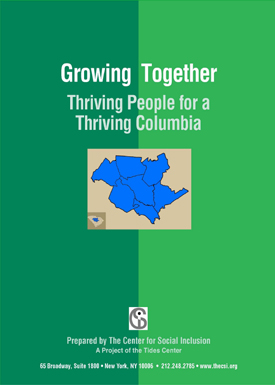 Our regions thrive when people throughout the region thrive. People thrive when their communities have what all communities need for healthy growth – clean air and water, affordable and decent housing, living wage jobs, quality public schools, and quality healthcare. The health and prosperity of the Columbia region1 are critical to South Carolina, the South, and the country. By investing in the health and economic well-being of all its people, the Columbia region could lead the way for the South and the nation.
Metropolitan regions are increasingly replacing cities as the new economic units, as the ideal scale at which communities, businesses, and government interrelate and operate most effectively. For example, businesses increasingly make location or relocation decisions based on the strength of the region.2 If we invest in well-being in the most marginalized communities, we reap the benefits across all communities in the metropolitan region.
To build greater regional prosperity, we have to know where opportunities are located regionally and who has access to them. Analyzing the socioeconomic conditions of communities across the region, regional development patterns, and state and local policies, this report identifies where growth is needed, where it is unsustainable, and what policy interventions can inform planning for healthy growth.3
This report finds that, while the city is growing, suburban development still dominates residential and job growth and only in relatively wealthy suburbs, which strains public coffers and is fiscally and environmentally unsustainable. In the Columbia region, Black communities experience the highest rates of poverty because they are isolated from opportunities. Racial isolation from regional opportunities has helped fuel sprawl, wasteful and costly development at the region's urban edges and beyond. Low-income Black communities in rural areas do not have critical public infrastructure, like water and sewer lines. This is both a serious public health issue and an economic and social development issue. Without essential infrastructure to attract capital and jobs, these communities also lack the tax base and tax revenues to pay for quality schools and essential services.
Columbia needs more affordable housing to connect low-income communities to regional opportunities. Over a third (37.6%) of Black residents are paying more than they can afford in rent (more than 30% of their income). Affordable housing located near good jobs, good schools, and quality services can connect low-income communities to regional opportunities. Inclusionary zoning and housing trust fund programs in other metropolitan regions have produced affordable housing for low income people and created mixed-income communities, improving the lives and economic base of area residents.
Columbia needs more transit options to connect poor community residents to regional job centers. Over a fifth (23.8%) of Black residents live in concentrated poverty neighborhoods – neighborhoods where at least 20% (rural) or 40% (urban) of the population lives at or below the federal poverty level. Concentrated poverty communities lack good jobs, good schools, and essential services. Many low-income Black residents living in rural areas cannot get to good jobs concentrated in wealthy suburbs, because of gaps in public transit service (17% of Black households in the region lack access to a car).
Columbia needs more infrastructure investment in under-developed communities to increase overall wealth and well-being of the region and its people. Despite very high homeownership rates in some parts of the region (72% in predominately Black Lower Richland County), Columbia's low-income Black communities have low home values, due in part to weak tax bases in Black neighborhoods. Lower Richland's 1LR tax district, which is the largest in land mass of the area's three tax districts, has only 20% of the Northeast's tax base. The median value of Black-owned homes in the region is $80,500 compared to $113,700 for White-owned homes.4 Columbia should provide public water and sewer services to low-income Black communities living in rural areas where population is dense, like those in Hopkins. Investment in water and sewer and other infrastructure in poor communities can reduce poverty, improve public health, and build community wealth.
Columbia should promote the participation of low-income Black communities in emerging green markets. Markets, such as renewable energy and organic farming, are viable rural economic development opportunities that can enrich Columbia's low income Black communities living in rural areas, as well as its Latino, Asian, and White rural communities, promote a healthy environment, and build a strong regional economy. Renewable energy production already has created thousands of jobs and boosted local economies in other parts of the country. And U.S. producers are turning to organic farming systems to capture high-value markets and premium prices and boost farm income.
Policies to control sprawl in wealthy areas are essential to the well-being of the region. Areas like Northeast Richland County, with its quality public schools and amenities, are straining under undeterred residential and population growth as middle-income people move there in search of opportunities they cannot find in other parts of the region, like Lower Richland County. Infrastructure is becoming stressed, as schools become overcrowded and traffic becomes more congested. While laudable in its intent to stop sprawl, Richland County's proposal to downzone rural areas may actually increase unhealthy growth. The proposal limits development in Lower Richland but does not create disincentives to sprawl in areas of the County where it is most rampant.
State policies, in addition to city and county policies, must support healthy growth.
The State should narrow its economic development subsidies to ensure they target poor communities. Currently, the whole state of South Carolina qualifies as an Enterprise Zone, which means the state's program is likely subsidizing growth in wealthy areas. Intended to boost economic activity in blighted areas, neither South Carolina's Enterprise Zone Act nor its Tax Increment Financing program are targeted to promote growth in poor neighborhoods, like Lower Richland. Given their broad eligibility criteria, these programs most likely have been subsidizing growth in wealthy areas of the region.5
The State should consider public transit options to benefit rural poor communities and help urban communities reach suburban job centers. Despite the availability of federal matching funds for public transit, there are currently no plans to expand public transportation to connect rural residents to jobs in other parts of the region.
The State needs new impact fee legislation. New developments do not pay for the public infrastructure required to sustain them. State law allows but does not require impact fees that would hold developers accountable to pay for costs created by new development. The law also prohibits charging developers for school construction, often the single largest cost created by new subdivisions.
To develop a strong and sustainable regional economic base, Columbia needs a set of policies that can promote sustainable economic development in rural Black communities and connect low-income residents in urban areas to opportunities, such as good jobs and good schools, in other parts of the region. Through policies that create opportunity for Columbia's low-income Black communities, the region can create a strong and sustainable regional economy and a clean and safe environment. A stronger, fairer and healthier Columbia metropolitan region is possible. All that is required is the will to grow well.
_______
1 In this report, we define the region as Richland County and its six adjacent counties: Calhoun, Fairfield, Kershaw, Lexington, Newberry, and Sumter counties.
2 Manuel Pastor et al., Regions That Work: How Cities and Suburbs Can Grow Together (University of Minnesota Press 2000) 3, 6, 100.
3 This report follows up on our first report on Columbia, which examined growth and opportunities in Richland County. We analyzed the Richland County Council's 1999 Comprehensive Land Use Plan and related draft zoning ordinance to identify the likely impact of the Plan's proposals to produce healthy growth. We found that despite the County's intent and laudable goals, its proposals were likely to permit sprawl where it is occurring, while restricting development and increasing poverty in poor Black communities, where development is sorely needed. Center for Social Inclusion, Race and Place: A Preliminary Look at Land Use Planning in Richland County, S.C. (2004).
4 These figures are based on data for the Metropolitan Statistical Area (MSA), which includes 5 of the 7 counties in our definition of the metropolitan region (Calhoun, Fairfield, Kershaw, Lexington, and Richland) plus Saluda County. U.S. Census (2006).
5 Alyssa Talanker, Kate Davis, and Greg LeRoy, Straying from Good Intentions: How States are Weakening Enterprise Zone and Tax Increment Financing Programs (Washington, D.C.: Good Jobs First, 2003).