March 15, 2010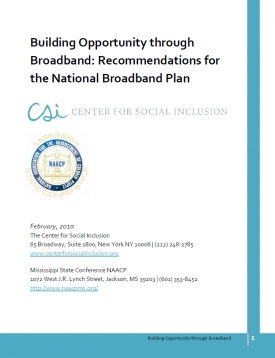 CSI AND THE MS-NAACP URGE THE FCC TO CREATE BLUEPRINT FOR BROADBAND EQUITY
CSI and the MS-NAACP recognize that federal investments in broadband and the development of the National Broadband Plan create unique opportunities to foster structural fairness and inclusion. On January 29, 2010, the organizations partnered with the Office of Congressman Bennie G. Thompson, Jackson State University, Full Spectrum South, the Center for Technology, Innovation & Community Engagement at the Fu Foundation School of Engineering and Applied Science at Columbia University and Tougaloo College to host "Building Opportunity through Broadband."
The hearing focused the attention of policymakers, press and the broader public on the urgent need for accessible and affordable broadband in Mississippi's Delta region. Representatives of private sector providers spoke about the various mechanisms for providing broadband service and the challenges involved in deploying to rural areas. Witnesses from leading research institutions and non-profits such as the University of Mississippi, the University of Mississippi Medical Center and the Mississippi Technology Alliance, shared lessons they had learned in designing and implementing sustainable initiatives. In addition, a panel of experts with experience in education, public health and economic development testified about how, with increased access to broadband, they could develop new and more effective approaches to persistent challenges.
This publication includes recommendations for the National Broadband Plan that are drawn, in large part, from the hearing record. The recommendations are grouped according to the four elements of the National Broadband Plan: expanding access to broadband service, guaranteeing affordability, evaluating broadband deployment projects and achieving national purposes. [1]
---
[1] See American Recovery and Reinvestment Act, Public Law 111-5, Section 6001(k)(2).