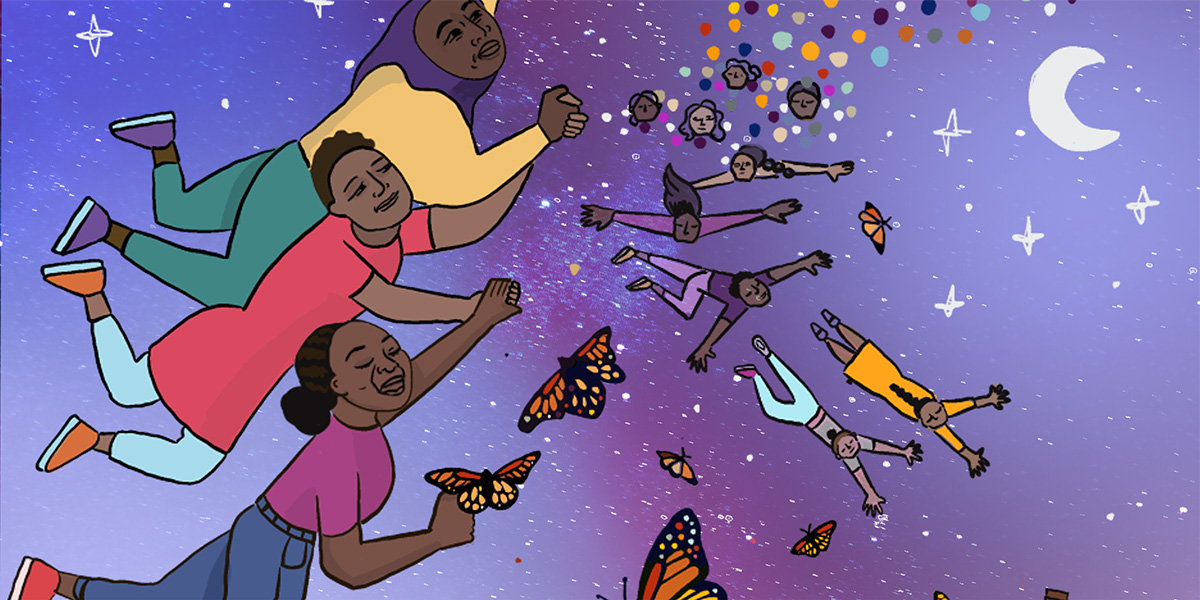 Illustration: Nansi Guevara
The Butterfly Lab's Community of Practice is a space for the pro-immigrant movement to create and deepen the impact of our narrative strategies. Using the learnings, recommendations, and tools developed from Phase 1 of the Butterfly Lab, we're excited to offer a series of learning opportunities. Learn more about our learnings, recommendations, and tools by checking out our foundational resources: A Future for All of Us: A Report on Phase 1 of the Butterfly Lab for Immigrant Narrative Strategy and The Butterfly Lab Narrative Design Toolkit.
Through the Community of Practice, the Butterfly Lab is offering webinars to develop familiarity with these tools and practices to generate deeper narrative alignment and capacity for all justice movements to conduct narrative design and build narrative strategy. So whether you're:
an experienced narrative leader in the immigrant movement 
an immigrant movement organizer beginning their learning journey in narrative and cultural strategy, or
a non-immigrant movement organizer curious about narrative strategy basics,
we hope you'll join us at one of our upcoming webinars this year.
Upcoming Trainings
We encourage you to sign up below for our mailing list to be the first to know when registration opens. We also encourage organizations to sign up in teams, ideally with representation from your organizational leadership.
If you have additional questions, check out our FAQ below or contact us directly at narrative@raceforward.org.
Virtual
Jul 21, 2022
A Future For Us All: Research Briefing for the Pro-Immigrant Movement
Community of Practice: Frequently Asked Questions 
Q: I'm new to narrative strategy. How do I learn more?
A: The Butterfly Lab produced a narrative strategy toolkit that will help you get started in thinking about narrative, articulating your narrative strategy, and designing and implementing your narrative projects.The toolkit introduces the Butterfly Lab and all the tools you need to create a narrative strategy. You can also learn more about narrative and cultural strategy more broadly by checking out Cultural Strategy: An Introduction and Primer by Art/Work Practice, From Stories to Systems by The Pop Culture Collaborative, and Toward New Gravity by the Narrative Initiative.
Q: I'm interested in attending a webinar. How do I sign up?
A: Webinars will be happening later this summer and fall. Registration opens about a month before each of our webinars. Sign-up for emails below to get notified.